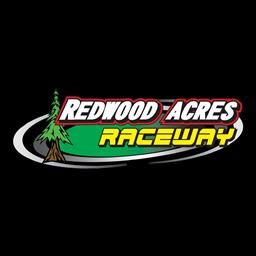 7/17/2022
Redwood Acres Raceway
---
Big Races On The Horizon As RAR Season Reaches Halfway Point
Only five races remain on the 2022 schedule for Redwood Acres Raceway. The season has had some fantastic and memorable moments already and that is certain to continue in the coming races with several major events still on the horizon.
Redwood Acres Raceway's next race is the Legends Of The Redwoods Shootout on Saturday July 30. It will be the second annual running of the event and the attractive purse is certain to attract much of the top Legends talent throughout Northern California. The main event winner will earn $2,000 while second will receive $800 and third $600. The minimum to start the feature is $200.
On Saturday August 13, the Spears SRL Southwest Tour Series will be returning to Redwood Acres Raceway for the first time since 2016. The event is sure to be a top draw for fans and drivers alike as the top late model drivers will be racing on the 3/8-mile paved oval for the fourth time in series history.
Fan Appreciation Night is scheduled for Saturday August 27. All five local divisions will be racing that evening and the event is a favorite with fans, particularly the youngsters who get to meet their favorite drivers and see their cars up close on the front straightaway.
Saturday September 10 will see the much-anticipated debut of the Gunslinger Sprint Cars to Redwood Acres Raceway. Fans should expect some of the quickest lap times in RAR history with the Gunslinger sprints and it will be the first-time winged sprints have ever raced on the pavement. The Upstate Bomber Series will also be racing that evening which will add more to what should be a thrilling night of racing.
The 2022 season will conclude on Saturday September 24 with the annual O'Reilly Auto Parts Fall Spectacular. Champions will be crowned in all local divisions for the event while the North State Modified Series will also join in on the fun with the big-money Dale Baldwin Memorial race. It will be a can't-miss event which will capstone the year.
Stay up to date with everything going on at Redwood Acres Raceway by visiting RacinTheAcres.com. Live streams of all events this season can be found at RacinTheAcres.tv and SpeedSport.tv. You can also find Redwood Acres Raceway on Facebook or Twitter @RacinTheAcres.
---
Submitted By: Matthew Sullivan
Back to News