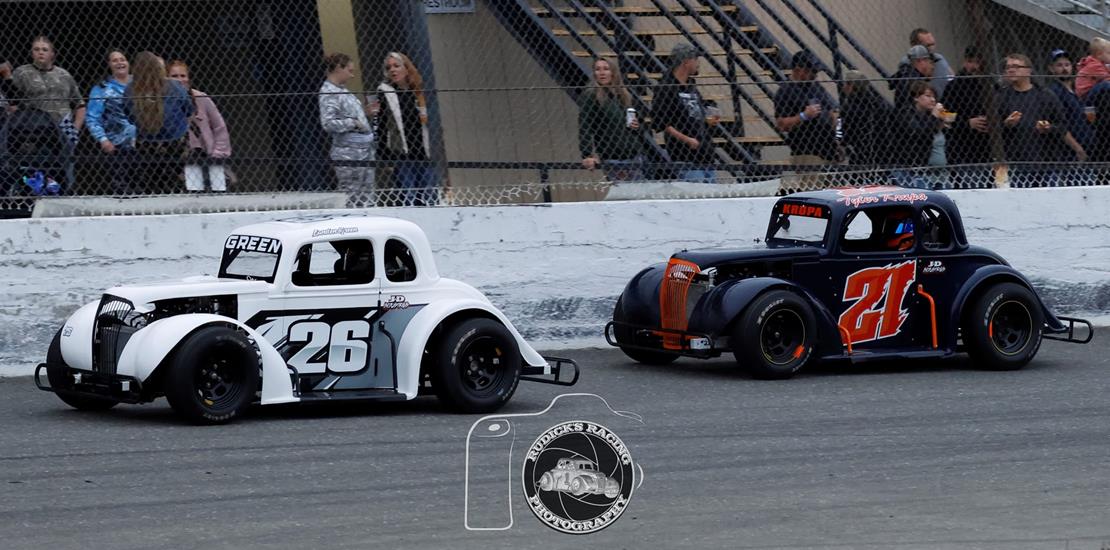 9/20/2023 -
This Saturday's O'Reilly Auto Parts Fall Spectacular will see the official crowning of Redwood Acres Raceway's 2023 track champions. Gary Klinetobe ha
9/18/2023 -
The final race of the 2023 season at Redwood Acres Raceway is scheduled to take place this Saturday September 23. O'Reilly Auto Parts is presenting th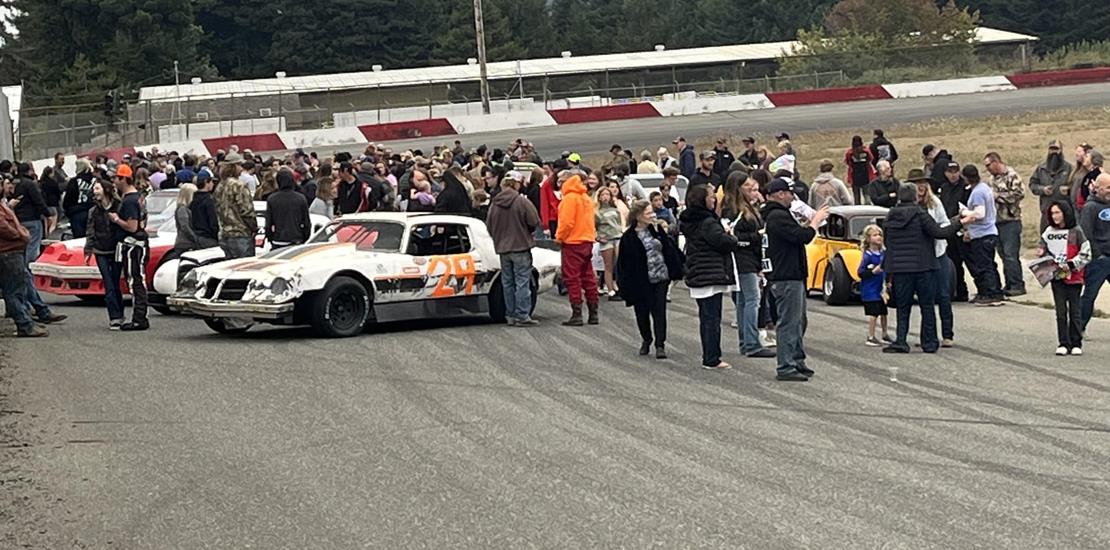 9/10/2023 -
The 2023 season at Redwood Acres Raceway held its penultimate race Saturday night. The annual Fan Appreciation Night race was presented by Redwood Cap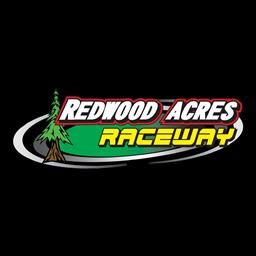 7/11/2020 - Redwood Acres Raceway
Eureka, CA
Firecracker 100
Buy your pit passes here and then go to rules and print out the 2020 Registration Package! That needs to be submitted prior to raceday.
Test and tune will be Friday from12:00 to 8:00 pm. Cost is $25.00 per person. Practices will consist of one car for 10 laps.
Gates open at 9:00 am Saturday. Racing will start at 3:00 with no fans but will be live streamed. The County Health Officer has limited the number of teams so be sure to buy your pit passes on this website. Print the other 3 forms and mail them to Redwood Acres Raceway, 331 Harris Street, Eureka, 95503. You can also sign in and pay at Four Star Realty at 331 Harris Street, Eureka or Automasters at 1902 2nd Street, Eureka.
Each car is allowed up 5 pit members including the driver. Teams will be escorted to their pit upon arrival.
We expect this event to sell out so be sure and buy your pit passes.
Late Models

6 entries

Legends

13 entries

Mini Stocks

9 entries

Bombers

6 entries

Bandoleros

4 entries

Roadrunners

10 entries
Full Event Information on MyRacePass
Late Models
Finish
Start
#
Competitor
Hometown
+/-
1
1
22M
David Miller Coquille, OR
Coquille, OR
-
2
4
10F
Dustin Walters Fortuna, CA
Fortuna, CA
2
3
6
2
David Henderson Fortuna, CA
Fortuna, CA
3
4
3
50
Ed Rasmussen , CA
, CA
-1
5
5
36
Luke Hall Alderport, CA
Alderport, CA
-
6
2
18
Eugene Palmer Eureka, CA
Eureka, CA
-4
Finish
Start
#
Competitor
Hometown
+/-
1
2
2
David Henderson Fortuna, CA
Fortuna, CA
1
2
5
10F
Dustin Walters Fortuna, CA
Fortuna, CA
3
3
1
36
Luke Hall Alderport, CA
Alderport, CA
-2
4
3
18
Eugene Palmer Eureka, CA
Eureka, CA
-1
5
4
50
Ed Rasmussen , CA
, CA
-1
Finish
Start
#
Competitor
Hometown
Time
1
1
10F
Dustin Walters Fortuna, CA
Fortuna, CA
2
2
2
David Henderson Fortuna, CA
Fortuna, CA
3
3
36
Luke Hall Alderport, CA
Alderport, CA
4
4
22M
David Miller Coquille, OR
Coquille, OR
5
5
18
Eugene Palmer Eureka, CA
Eureka, CA
6
6
50
Ed Rasmussen , CA
, CA
Legends
Finish
Start
#
Competitor
Hometown
+/-
1
1
49
Chris Lawrence Fortuna, CA
Fortuna, CA
-
2
2
9
Dane Nissen Williams, CA
Williams, CA
-
3
3
21
Tyler Krupa Eureka, CA
Eureka, CA
-
4
4
33
Chris Sarvinski
-
5
5
5C
James Nichols
-
6
6
24P
David Dunlap
-
7
12
3
Andy Thornton Canby, OR
Canby, OR
5
8
7
8
Scott Taylor
-1
9
8
20
Nick Reading Redding, CA
Redding, CA
-1
10
9
83
Ethan Imperatrice Princeton, CA
Princeton, CA
-1
11
10
15
Jordan Paiment
-1
12
11
62
Brad Henderson Fortuna, CA
Fortuna, CA
-1
Finish
Start
#
Competitor
Hometown
Time
1
1
49
Chris Lawrence Fortuna, CA
Fortuna, CA
2
2
9
Dane Nissen Williams, CA
Williams, CA
3
3
33
Chris Sarvinski
4
4
15
Jordan Paiment
5
5
5C
James Nichols
6
6
83
Ethan Imperatrice Princeton, CA
Princeton, CA
7
7
21
Tyler Krupa Eureka, CA
Eureka, CA
8
8
3
Andy Thornton Canby, OR
Canby, OR
9
9
24P
David Dunlap
10
10
22
Brent Mack Eureka, CA
Eureka, CA
11
11
8
Scott Taylor
12
12
20
Nick Reading Redding, CA
Redding, CA
13
13
62
Brad Henderson Fortuna, CA
Fortuna, CA
Mini Stocks
Finish
Start
#
Competitor
Hometown
+/-
1
1
11
Brett Murrell Mckinleyville, CA
Mckinleyville, CA
-
2
2
14
Jarrett Mayo Mckinleyville, CA
Mckinleyville, CA
-
3
3
39
Gary Klinetobe Fortuna, CA
Fortuna, CA
-
4
4
3
Gannon Cyphers Eureka, CA
Eureka, CA
-
5
5
99
Bubba Klinetobe Fortuna, CA
Fortuna, CA
-
6
6
74
Brian Murrell Jr Mckinleyville, CA
Mckinleyville, CA
-
Finish
Start
#
Competitor
Hometown
+/-
1
6
11
Brett Murrell Mckinleyville, CA
Mckinleyville, CA
5
2
5
14
Jarrett Mayo Mckinleyville, CA
Mckinleyville, CA
3
3
1
3
Gannon Cyphers Eureka, CA
Eureka, CA
-2
4
3
99
Bubba Klinetobe Fortuna, CA
Fortuna, CA
-1
5
8
16O
Eric O'Ferrall
3
6
2
85
CJ Dalton Fortuna, CA
Fortuna, CA
-4
7
7
74
Brian Murrell Jr Mckinleyville, CA
Mckinleyville, CA
-
8
4
39
Gary Klinetobe Fortuna, CA
Fortuna, CA
-4
Finish
Start
#
Competitor
Hometown
Time
1
1
11
Brett Murrell Mckinleyville, CA
Mckinleyville, CA
2
2
14
Jarrett Mayo Mckinleyville, CA
Mckinleyville, CA
3
3
39
Gary Klinetobe Fortuna, CA
Fortuna, CA
4
4
74
Brian Murrell Jr Mckinleyville, CA
Mckinleyville, CA
5
5
3
Gannon Cyphers Eureka, CA
Eureka, CA
6
6
85
CJ Dalton Fortuna, CA
Fortuna, CA
7
7
99
Bubba Klinetobe Fortuna, CA
Fortuna, CA
8
9
15
Shannon Palmer Eureka, CA
Eureka, CA
9
8
16O
Eric O'Ferrall
Bombers
Finish
Start
#
Competitor
Hometown
+/-
1
2
44
Donnie Brown Eureka, CA
Eureka, CA
1
2
3
88
Sam Brown Mckinleyville, CA
Mckinleyville, CA
1
3
4
24
Raquel Krupa
1
4
5
50R
Bridget Steeves , CA
, CA
1
5
6
00
Jordan Krupa Eureka, CA
Eureka, CA
1
DQ
1
19
Brandon White Eureka, CA
Eureka, CA
-
Finish
Start
#
Competitor
Hometown
Time
1
2
88
Sam Brown Mckinleyville, CA
Mckinleyville, CA
2
3
24
Raquel Krupa
3
4
44
Donnie Brown Eureka, CA
Eureka, CA
4
5
50R
Bridget Steeves , CA
, CA
5
6
00
Jordan Krupa Eureka, CA
Eureka, CA
DQ
1
19
Brandon White Eureka, CA
Eureka, CA
Roadrunners
Finish
Start
#
Competitor
Hometown
+/-
1
1
29
Jeremiah Martin Eureka, CA
Eureka, CA
-
2
2
81
Bryan Brandt
-
3
3
79
JR Brandt Eureka, CA
Eureka, CA
-
4
4
31
Nick Ford Somoa, CA
Somoa, CA
-
5
5
1
Leroy Marsh Jr. Fortuna, CA
Fortuna, CA
-
6
6
55
Ty Rose Fortuna, CA
Fortuna, CA
-
7
7
65
Tim Ratzlaff Eureka, CA
Eureka, CA
-
8
8
24
Lexi Coleman Fortuna, CA
Fortuna, CA
-
9
9
2
Wayne Marsh Fortuna, CA
Fortuna, CA
-
Finish
Start
#
Competitor
Hometown
+/-
1
1
29
Jeremiah Martin Eureka, CA
Eureka, CA
-
2
2
81
Bryan Brandt
-
3
3
79
JR Brandt Eureka, CA
Eureka, CA
-
4
4
65
Tim Ratzlaff Eureka, CA
Eureka, CA
-
5
5
31
Nick Ford Somoa, CA
Somoa, CA
-
6
6
24
Lexi Coleman Fortuna, CA
Fortuna, CA
-
7
7
55
Ty Rose Fortuna, CA
Fortuna, CA
-
8
8
26
Joseph Brown , CA
, CA
-
9
9
2
Wayne Marsh Fortuna, CA
Fortuna, CA
-
Finish
Start
#
Competitor
Hometown
Time
1
1
81
Bryan Brandt
2
2
29
Jeremiah Martin Eureka, CA
Eureka, CA
3
3
26
Joseph Brown , CA
, CA
4
4
79
JR Brandt Eureka, CA
Eureka, CA
5
5
24
Lexi Coleman Fortuna, CA
Fortuna, CA
6
6
65
Tim Ratzlaff Eureka, CA
Eureka, CA
7
7
55
Ty Rose Fortuna, CA
Fortuna, CA